Shower Screens
SHOWER SCREENS GEELONG
Bathrooms are often the most out of date spaces in our homes, but with shower screens in Geelong, you can easily transform them into a modern, attractive and welcoming spaces. Older bathrooms tend to feel heavy, dirty, cramped and unattractive. New shower screens in Geelong, on the other hand, are light and airy, giving your bathroom a greater sense of space, cleanliness and elegance. Frame-less shower screens are particularly well suited to smaller bathrooms, as they have such a light, open appearance. Professionally designed, manufactured and fitted shower screens in Geelong are also as practical as they are attractive. Showers without a barrier, or those fitted with curtains or poorly constructed screens offer little to no protection from splashes or pooling water. This can result in a damp environment and water damage. The entire Geelong Security Door range of shower screens are easy to clean and maintain, as they don't gather mould or mildew, ensuring bacteria doesn't spread.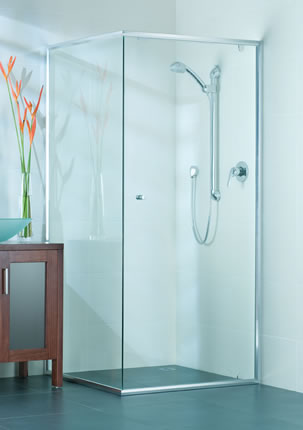 After 25 years of experience installing the best shower screens in Geelong, we understand what makes great shower screens in Geelong or elsewhere and have carefully chosen a range that does these qualities justice. The Geelong Security Doors range of shower enclosures includes:
Evolution
Optima
Dimension
Momentum
The quality of each of these options is second to none. All our shower screens in Geelong are made using Australian standard safety glass, are strong enough to withstand high amounts of pressure and will not break easily.
We also understand that every bathroom is different, as are individual tastes. As such, we offer shower screens in Geelong in a wide array of styles, patterns and finishes. This ensures that you get a high quality, aesthetically pleasing outcome that matches both your requirements and budget.
Whether you are giving your much used bathroom a complete makeover, or want to make a big impression with minimal effort, then fitting new shower screens in Geelong is a fantastic option and Geelong Security Doors is your local expert. Get in touch with us today to find the perfect option for your bathroom.